Rica in a RVCA top (which you can't see here) and her cute UGGs ++ 
RVCA Headquarters - Day 1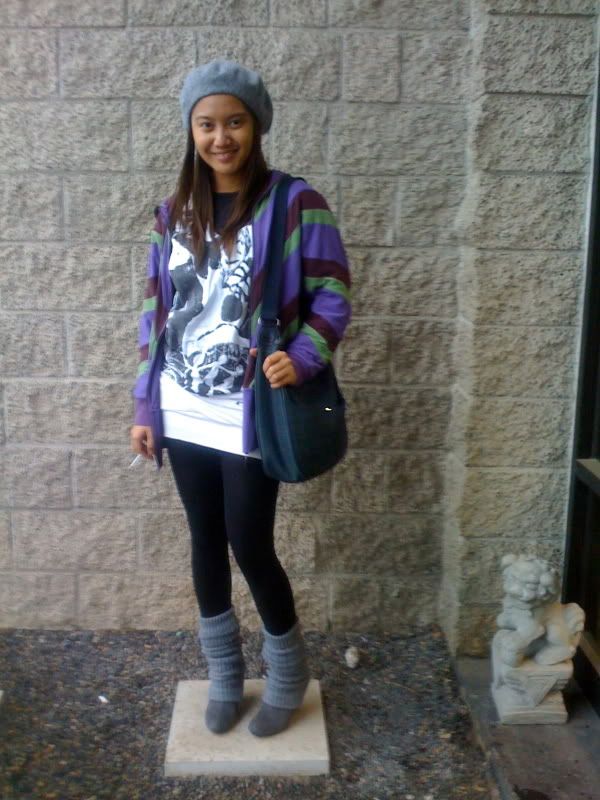 Eiarth batwing dress, vintage jacket (stolen from the boyfriend), H&M tights, Terranova leg warmers, Grey ankle boots from payless shoes (bought the day before), Lacoste bag, Beret from somewhere i don't remember ( bought the day before)
The blog sabatical was caused by a 7-day business trip to the US of A. It was exhaustion beyond any trip that i had but the most enlightening i might add.
It was my first business trip with REPUBL1C, and it was way beyond cool.
Day1 was a mess, renting a car which we never got because i don't have a credit card, and my associate rica, who has a credit card doesn't have a license. so had to go back to the airport and get into a shuttle to our hotel in South Coast. Which meant that we practically missed the RVCA welcome party for the international distributors.
RVCA + their crew was really awesome, conan + chris + kristin ++
I am really glad that we are distributing this brand in the P.I..The ideas, vision and talent of these people are just inspiring and we really need more of them in this world, especially in this country.
plus
 the awesome people from the other countries like annalie of TNT canada and some afro guy whose name i forgot are so cool.
We also bugged some other peeps like mike and bow of Liquid Force, the Hurley dudes, the funky guys at PLANB and C1RCA.
here are some snippets of the RVCA sales mtg (my excuse for being blog absent).